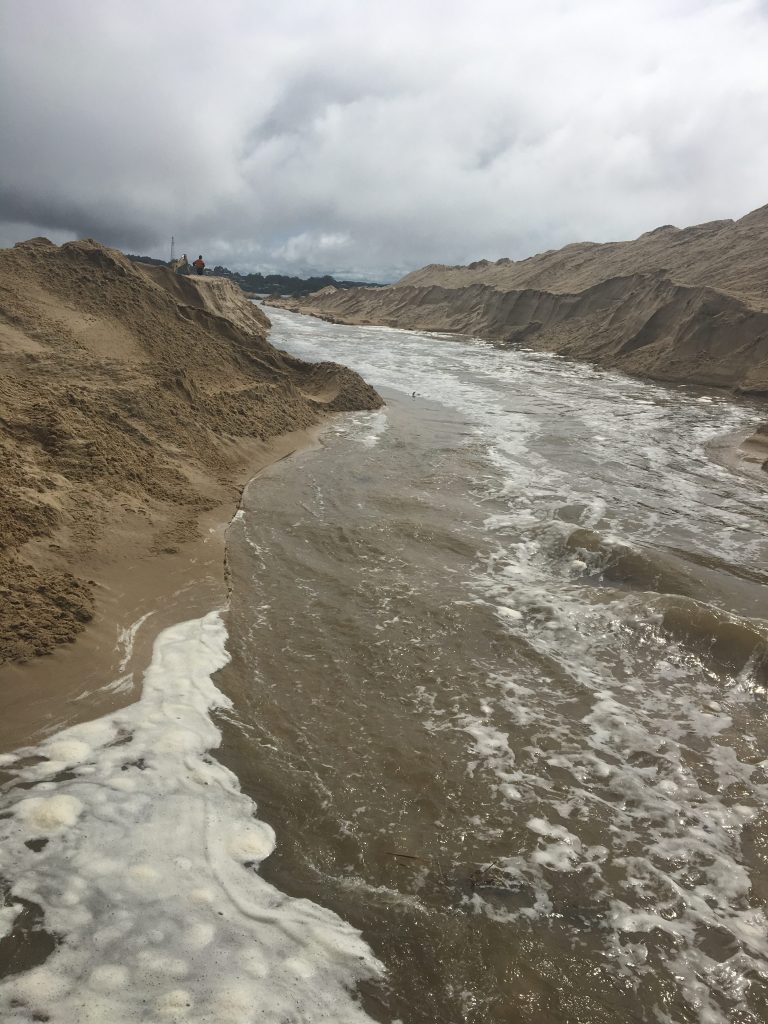 The East Gippsland Catchment Management Authority (EGCMA) advises that the entrance at Mallacoota Inlet estuary was opened on 21st March.
Good rainfall over the catchment at the beginning of last week meant that conditions were favourable for Parks Victoria to artificially open the entrance with lake levels now beginning to drop.
EGCMA CEO Graeme Dear said "We will continue to monitor water levels and stream flows into the estuary and provide further advice if the entrance closes again".
"We would also like to thank those in the community who have assisted with data gathering in recent months" Mr Dear said.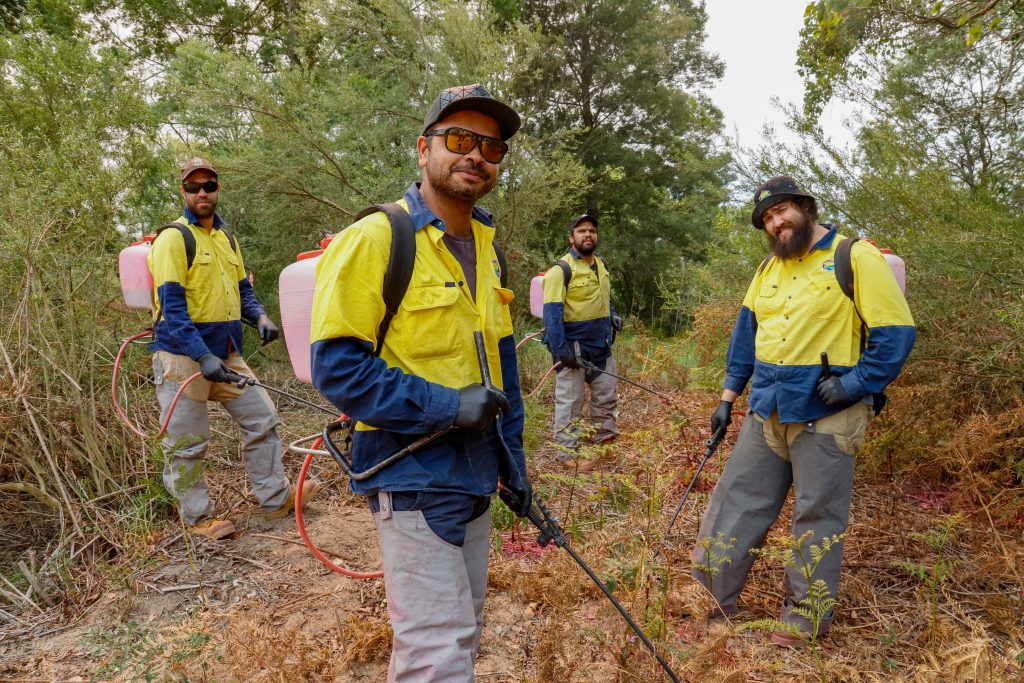 The Gunaikurnai Land and Waters Aboriginal Corporation (GLaWAC) NRM  Crew have been working along the banks of the Tambo River, controlling weeds between Battens Landing and Stephenson Bridge.
Working in partnership with the East Gippsland Catchment Management Authority (EGCMA), the works will improve public recreational access to the well-known swimming spots and complement revegetation works being undertaken in the area.
These works are part of a coordinated effort to improve the health of the Tambo River, together with public access and amenity from Swifts Creek downstream to the mouth of the river.
"Our NRM team are proud to be working on country in partnership with EGCMA" said Nigel Pearce, NRM Manager at GLaWAC.
"The Water Plan for Victoria seeks greater involvement of Traditional Owners and recreational users in the management of our rivers." said the EGCMA CEO, Graeme Dear. "Our strong relationship with GLaWAC provides opportunities to build and share skills and cultural knowledge."
The project is funded by the Victorian State Government as part of $222 million committed to improving the health of waterways and catchments in Victoria.
Minister for Water Lisa Neville is inviting applications to fill 115 director positions on Victoria's water boards.
Water corporations provide a range of services to customers comprising water supply, sewage and trade waste disposal and treatment, water delivery for irrigation and domestic and stock purposes, drainage, and salinity mitigation services.
Catchment management authorities are responsible for the integrated planning and coordination of land, water and biodiversity management in each catchment and land protection regions.
Board directors come from all walks of life, including farmers, small business owners, project managers and other professionals.
The Victorian Government is committed to increasing diversity in water sector leadership, and applications are encouraged from Aboriginal people, Traditional Owners, people with disabilities, young people and people from culturally diverse backgrounds.
Promoting diverse participation on Boards brings diversity in skills and perspectives and strengthens the Victorian economy and the broader community. Victoria strives to have public sector Boards that are highly effective and reflective of our diverse community.
The Victorian Government has invested $584 million to deliver water initiatives as a part of the state's water plan, Water for Victoria, including a record $222 million investment for waterway health.
Expressions of interests for the water corporation and catchment management positions close on 1 April 2019.
More information on board vacancies and the expression of interest process is available at Get On Board .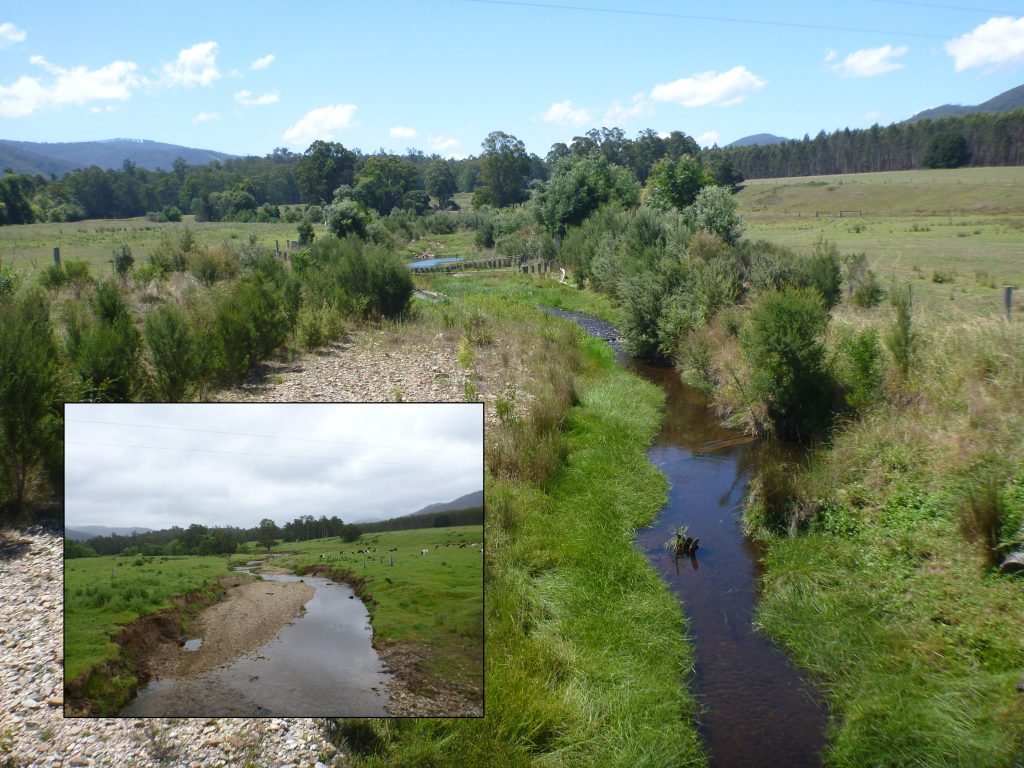 The last six years has shown a big difference on the Combienbar River!
For many years the East Gippsland Catchment Management Authority (EGCMA) has been partnering with landholders along the Combienbar River; constructing 20km of fencing and installing off-stream stock watering systems to keep cattle out of the waterway. A weed control program followed together with planting native plants to help reduce erosion in the river channel and provide habitat for wildlife. The photos above show the last six years of change. As they say, proofs in the pudding.
Through the Victorian Government's Regional Riparian Action Plan initiative, farmers, Landcare groups, angling clubs and the wider community are improving areas like the Combienbar. Through people working together, we are seeing great results for the critters who call our rivers home.